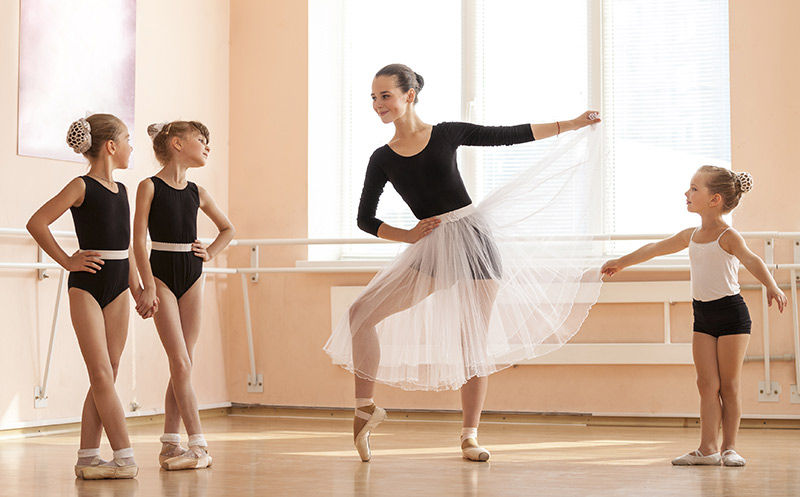 Royal Academy of Dance©
Die Royal Academy of Dance ist eine internationale Organisation, die Standards in Form von Lehrplänen vorgibt und entsprechende Prüfungen abnimmt. All unsere Ballettpädagoginnen sind von der RAD zertifiziert.
Graded Training
Die Lehrpläne der Kategorie "Graded Training" sind für all diejenigen geeignet, die Ballett als Hobby betreiben und trotzdem eine zertifizierte Ballettausbildung genießen möchten. Diese erstreckt sich von Pre-Primary (ab 4 Jahren) bis Grade 8 (Jugendliche/Erwachsene).
Vocational Training
Das "Vocational Training" richtet sich an die Schüler*innen, die mehr erreichen möchten. Beispielsweise qualifiziert die Stufe "intermediate" zum Studium der Tanzpädagogik der Royal Academy of Dance.
Privatunterricht
Privatunterricht sowie Vorbereitung eines Hochzeitstanzes auf Anfrage
Testimonials
Test. 5
Eine Ballettschule mit Herz! Mit professionellen Lehrerinnen wird hier mit viel Spaß und Liebe zum Detail, ein sehr guter Unterricht für alle Altersklassen gegeben. Tolle Aufführungen inklusive.
Der Yoga Kurs ist der Knaller, fühle mich hier richtig wohl. Tolle Leute und mega schöne Schule!
Eine super gemütliche, schöne Schule. Sehr abwechslungsreiches professionelles Angebot an allem was das Tänzerherz begehrt. Super Anfänger Angebot, auch für jemanden der noch nie vorher Ballett getanzt hat. Eine Schule die ich nur weiter empfehlen kann.